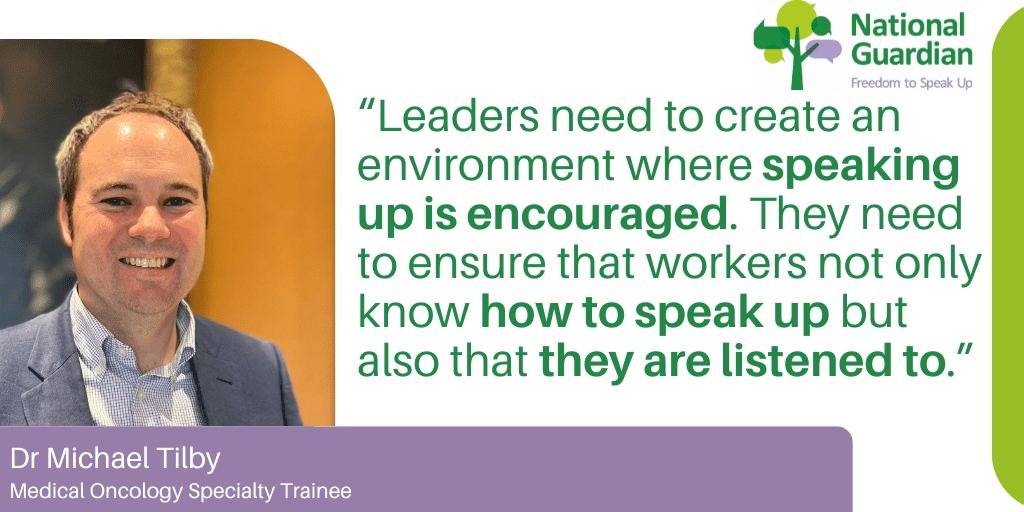 In the last year I have taken time of out training in medical oncology to work as one of the National Medical Director's clinical fellows at the Care Quality Commission. Over the past year I have been able to support inspection teams in listening to a range of workers and people across a wide spectrum of NHS and independent health providers. I have seen how having an open culture that encourages and enables speaking up is critical to both the care we give people and the health and wellbeing of staff.
Through my experience at the CQC I have spoken to a range of workers during inspections. I heard how speaking up can improve patient care and drive change within departments. I heard from a worker who had raised concerns around the safety of patients receiving specialist treatment in a ward environment. The concerns were heard and listened. They were supported to implement solutions, with appropriate resources, to mitigate the risks to patient safety.
I heard from people who can raise matters confidently with their own team or line manager. Other workers have used their local Freedom to Speak Up Guardian to support them. I have seen how matters raised lead to change that positively impacts upon the experience of both people and workers. I have seen how some workers do not know who to speak to or do not feel comfortable to raise issues. I have spoken to junior doctors who feel uneasy about raising concerns due to the perceived repercussions from their consultant supervisors. I spoke to junior doctors who spoke up and felt like they were ignored. I have seen instances where staff have raised concerns through multiple channels and still feel like they are not being listened to.
This is not right. This kind of culture in a department or organisation effects staff wellbeing and patient care.
As a junior doctor I have worked in a variety of places where the culture to raise issues, both positive and negative, has been mixed. Junior doctors work in a privileged, although admittedly challenging, position where we move around and are exposed to a wide range of teams and departments in our training. Sometimes concerns are been raised where it feels like no one listening and sometimes matters are resolved, or a clear explanation given. Junior doctors have a key role in identifying and driving solutions improve patient care. The 2022 General Medical Council National Training survey  reported that 75% of trainees in England agreed there is a culture of proactively reporting concerns and 78% of trainees in England reported that there was a culture of learning from concerns raised. The 2022 National Education and Training Survey showed that 20% of learners across all healthcare settings did not feel comfortable to raise concerns in England.
We need to do better for our patients and our colleagues. Junior doctors are an integral part of the team to improve outcomes for patients and need to be supported to speak up. Leaders need to create an environment where speaking up is encouraged. They need to ensure that workers not only know how to speak up but also that they are listened to.