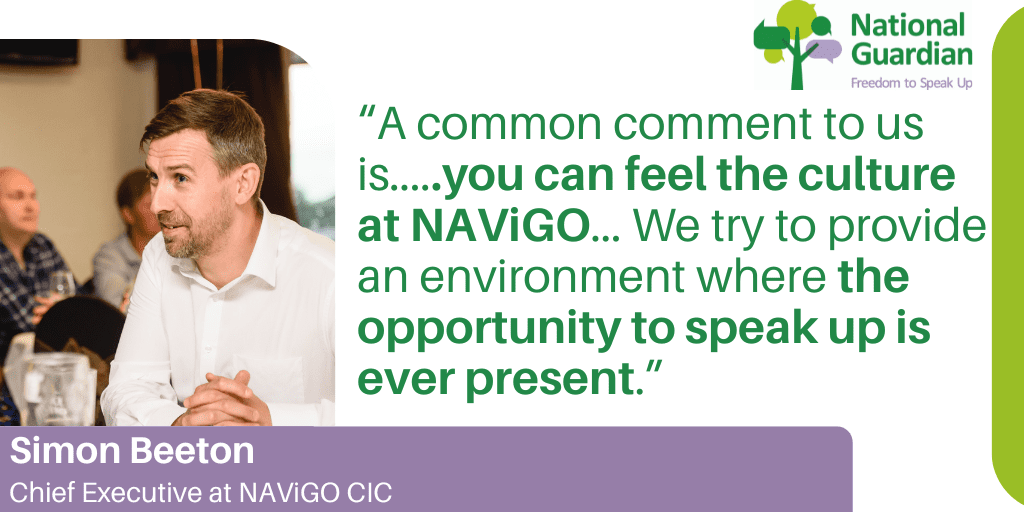 In the 2021 NHS Staff Survey, 79% of respondents said that they felt safe to speak up about anything which concerns them at NAViGO CIC, a five percent improvement on the 2020 result.
NAViGO is a social enterprise providing mental health services to the NHS and beyond across North East Lincolnshire. NAViGO offers a range of mental health services, including acute and community facilities – as well as specialist support such as older adult's inpatient services; rehabilitation and recovery; community mental health; and a specialist eating disorder facility.
"A common comment to us is…..you can feel the culture at NAViGO." says Simon Beeton Chief Executive.
"Claire [Withers] does a fabulous job as our Freedom to Speak Up Guardian. She is also our Training Lead so has the advantage of seeing every member of staff in the organisation at least once a year (and crucially in a training environment we find staff often feel able to 'open up').
"However, we don't just rely on the Freedom to Speak Up Guardian and associated structures. Staff can basically speak up to whoever is nearest to them at the time, whether they be Line Managers, Elected Staff Representatives, Elected Community Representatives, Non-Executives, the Chair or directly to myself or any one of the Exec/Senior Team. We try to provide an environment where the opportunity to speak up is ever present."
Richard Watson, Assistant Director People & Organisational Development, agrees.
"We have an active membership of staff and service users who drive many of our service objectives. We actively encourage staff to raise concerns more through the organisation dialogue and management approach, than specific campaigns. Through our CIC structure we have a regular 'your voice' engagement meeting with staff and service users, again offering opportunity for a joint voice to be heard.
"It's a case of leading from the front, having ease of access, to the right people, who also leave the job title at the door. Senior leadership are out and about in our services and highly visible. They will work a shift, usually weekend or nights on our frontline services, times when staff may be harder to engage with, but a lot can be gleaned from a 12.5 hour conversation alongside colleagues."
"Our strapline as an organisation is "providing services we would be happy for our own family to use' and we regularly use that as our acid test," says Simon. "So, if something you see is not good enough for your family or loved ones, let us know."
This case study is included in the National Guardian's Office 2022 Annual Report