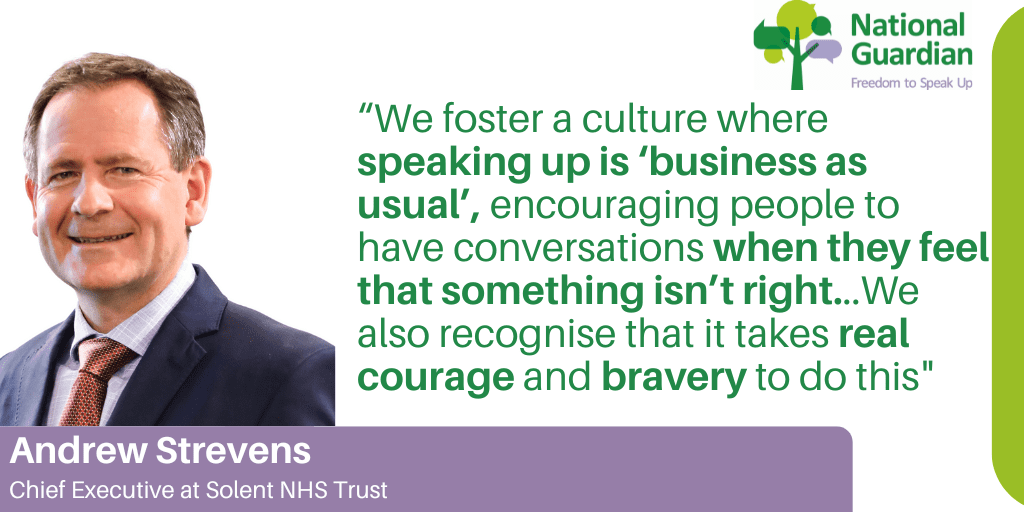 In the 2021 NHS Staff Survey, 79% of workers at Solent NHS Trust agreed with the question "I feel confident to speak up about anything that concerns me in my organisation." This was the highest score for an NHS Trust, with the average being 62%.
Talking about Solent NHS Trust's positive speaking up culture, Andrew Strevens, Chief Executive says: "Speaking up matters because it gives us the opportunity to learn when things go wrong – it means people can speak their truth and be heard and we can collectively act in a timely way. By doing that we continue to improve and learn together as one team, maintaining patient and employee safety and sharing positive experiences from around our organisation.
Within Solent, through living our values, we have created a compassionate and inclusive culture which is evidenced through our staff survey results – this has led to a growing and positive speaking up culture. When people feel psychologically safe and able to be their authentic selves, it helps them feel able to speak up and express their concerns. When people do speak up, we respond with kindness and civility – our staff survey results evidenced that 86.1% of people who responded said that they would feel secure raising a concern about unsafe clinical practice and 79.4% of people said that they felt confident the organisation would address their concerns.
"We foster a culture where speaking up is 'business as usual', encouraging people to have conversations when they feel that something isn't right. There are numerous speaking up routes within Solent and we understand that people will have their own preferences around how they would like to share their concerns. We also recognise that it takes real courage and bravery to do this so we ensure that we regularly promote all the different types of support available, from line management conversations to staff network groups and Freedom to Speak Up guardians."
This case study is included in the National Guardian's Office 2022 Annual Report