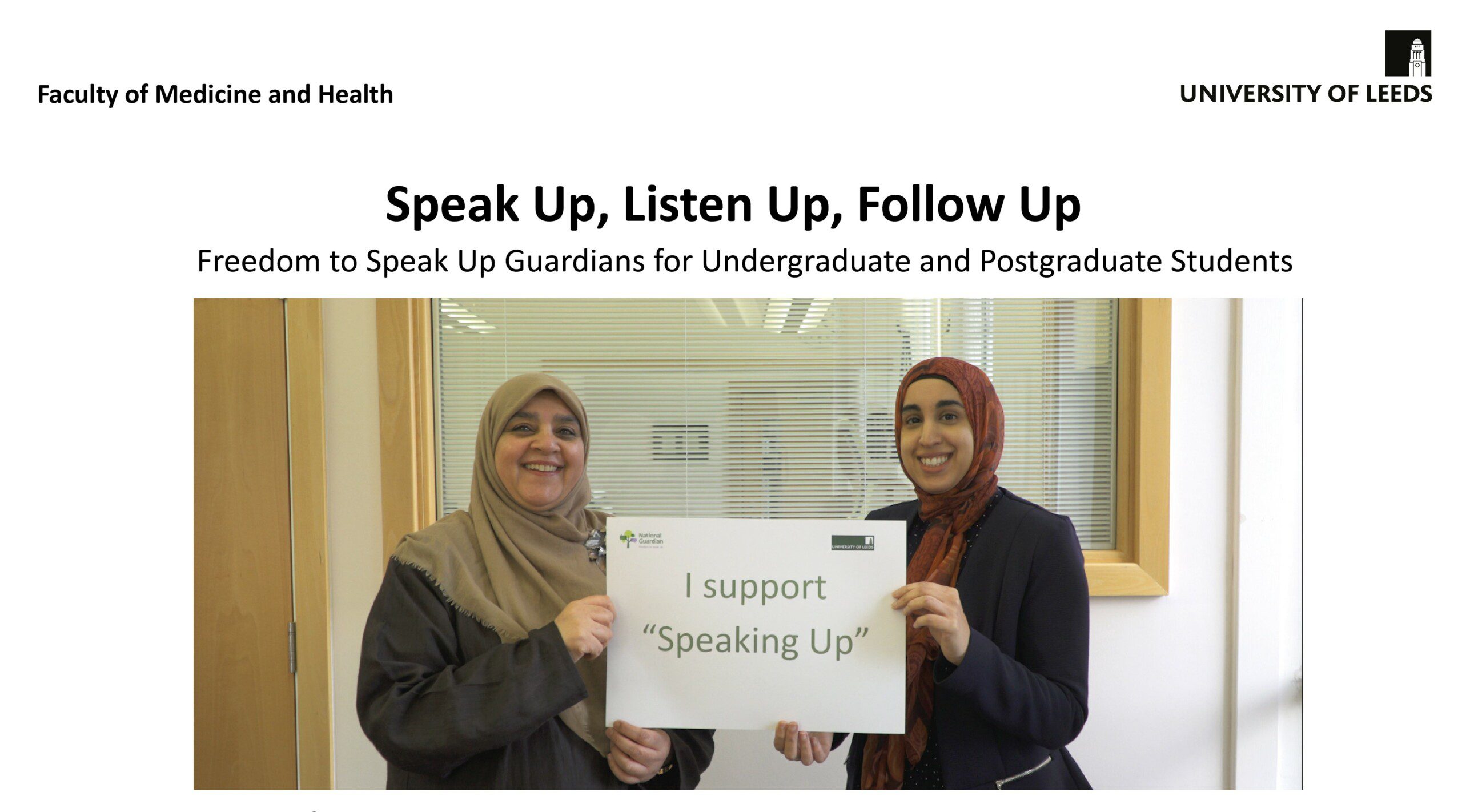 Hello, we are Farhana and Robina and we work within the Faculty of Medicine and Health (FMH) at the University of Leeds. We believe we are the first University to introduce the role for students. Our journey began 3 years ago when two Freedom to Speak Up guardians were employed as a pilot within the School of Medicine: this quickly grew into a substantive role to support the whole faculty including Healthcare, Dentistry and Psychology students.
The introduction of the Freedom to Speak Up Guardian roles at Leeds was a response to the student voice through our surveys and issues raised by them in relation to the Black Lives Matter movement. We know that issues such as sexual harassment, racism and other forms of discrimination can affect the health and well-being of our students and can affect their ability to learn, work and interact in safe environments on campus and on clinical placements. The Freedom to Speak Up Guardian role empowers student voice, making students feel heard and valued.
Our student population are our future NHS professionals. We wanted to model the NHS Freedom to Speak Up model within our Schools, and create a Speak Up, Listen Up, Follow Up culture well before they joined the ranks of NHS professionals.
 "From many instances at national level in the NHS, we are aware of the problem with the 'power differential' operating at institutional / organisational level, not only with patient safety issues but also with inappropriate behaviour towards junior colleagues and students. To counter this, we need an open and totally respectful culture AND the expanded effectiveness of Speak Up Guardians. Culture and behaviour has to change!" (Postgraduate Medical Student)
 "Being a student, I was already struggling on so many fronts on top of managing my academics, sometimes being pulled in too many directions can make it harder to begin and follow through on an issue you've raised, especially if there's multiple hoops to jump through and all the initiative to chase them up is required from you alone. The Freedom to Speak Up guardians were able to alleviate all of the above barriers through their expertise and continued support. I valued the space I was given to voice my experiences. The empathy, understanding and support I was afforded through our interactions was genuinely unlike anything I had experienced before throughout my time at medical school." (Undergraduate Medical Student)
The introduction of widening participation pathways has welcomed more diverse students to attend our university environment. This has highlighted gaps in our current systems and processes that are reviewed and enhanced so all students feel a sense of belonging. We are keen for our future professionals to recognise how their own diverse lived experiences bring value and help link them directly to the diverse range of patients they care for.
Our impartial role, the follow up process and the feedback our students gain ensures accountable leaders are fully engaged with the culture changes our students seek. We recognise we are at the early stages of our journey but already have the support of staff and students at all levels. We were recently awarded a Partnership Award by staff and students for our Positive Contribution to Student Experiences and Opportunities.
"The Freedom to Speak Up guardians have allowed me, and all of us, to have a supported, direct line to the people in the medical school whose decisions affect our experience. All of my communication with them has been helpful, and their work is highly effective. By having them I feel more supported by the medical school than I have done before, since my concerns have been listened to, and responded to in a timely and professional manner."  (Undergraduate Medical Student)
Our students recognise the importance of offering equitable services to whoever walks through their doors. By developing the courage to speak up as students they build levels of confidence to Speak Up both here at the University of Leeds and when working within NHS environments.